Laser Therapy

Laser Light Therapy (aka, Photobiomodulation therapy) delivers light into soft tissue to promote increased circulation causing tissue cellular reaction.
The underlying cellular response therefore changes tissue physiologically. These changes in the tissue reduce inflammation and restores our nature healing abilities within the body.
Laser Therapy can be delivered either by pulsed or continues wave and both can produce cellular responses.
Also, there are laser classifications to consider for safety measures. Most clinical lasers are class 3 or 4.  Class 3 lasers output is approximately 500 mW and class 4 output is 500 – +. Higher laser out-put penetrates deeper tissue resulting in desired effects for patients.
Soft tissue laser treatment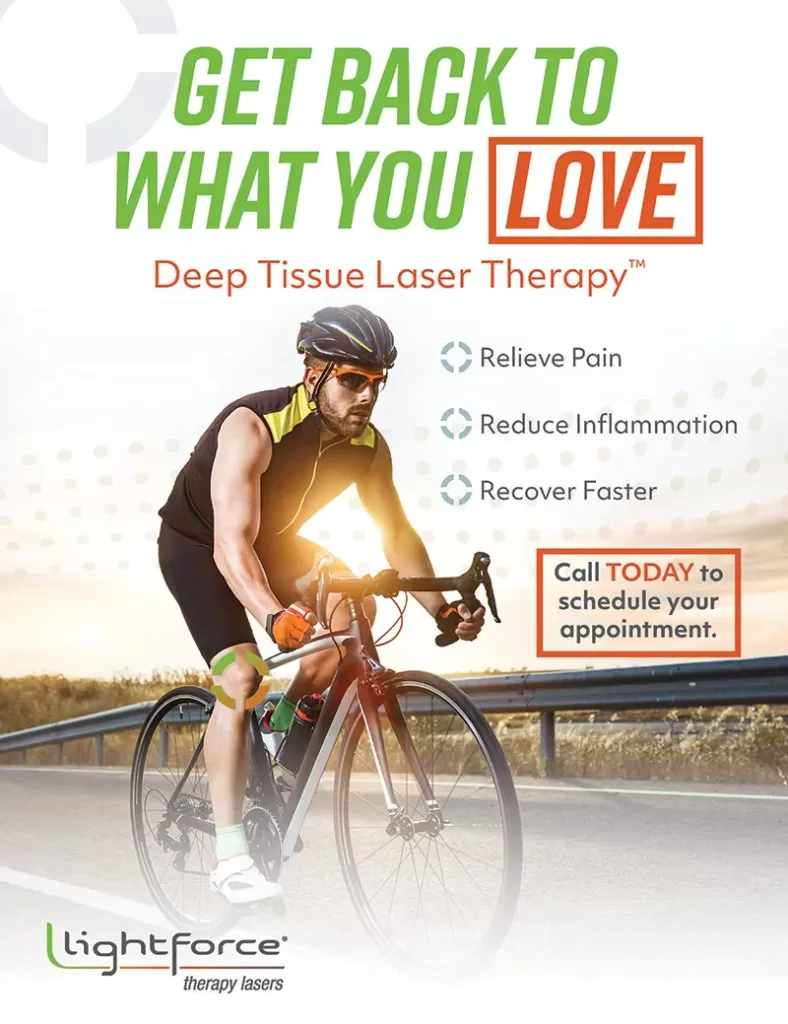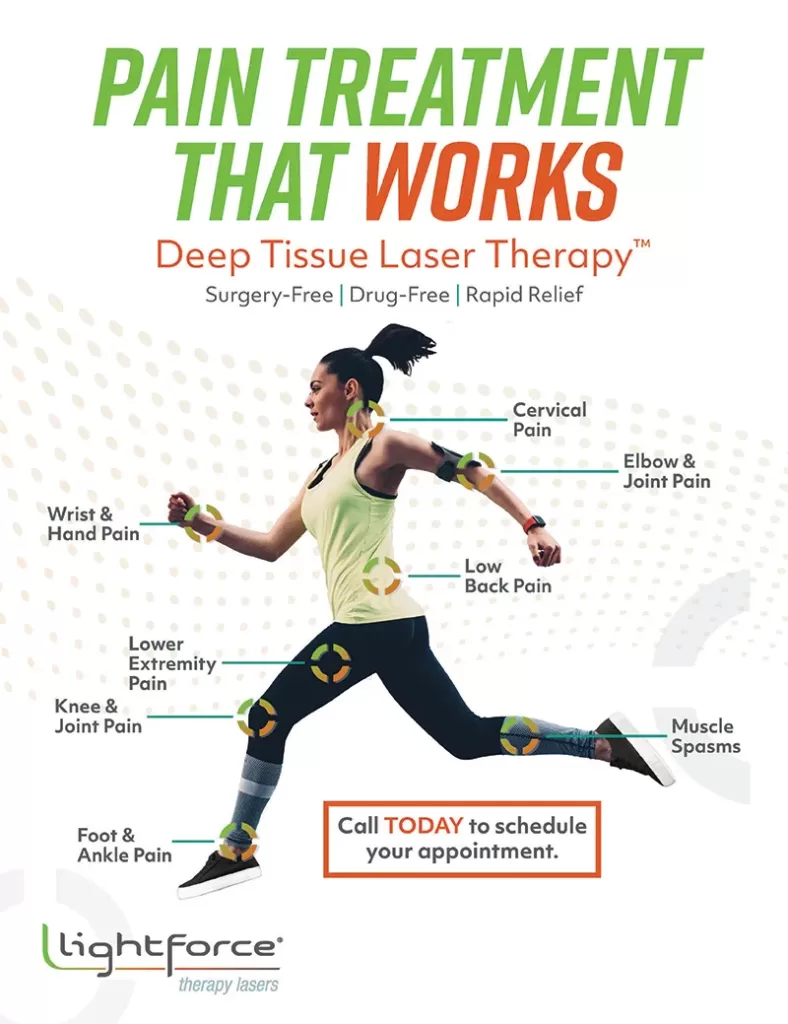 Class 4 LightForce Equipment
Our clinic uses Class 4 LightForce equipment that has the best reviews, advanced research, and deep flexibility ranging from 1 to 40 watts.
Laser Therapy is indicated for acute injuries, chronic injuries, and post recovery injuries. Some of the diagnoses are TMJ, neck pain, shoulder pain, elbow and joint pain, fibromyalgia, low back pain, sciatic pain, arthritis, sports injuries, soft tissue damage and plantar fasciitis.
In addition, Laser Therapy is used to accelerate bone growth on fractures, wound healing on any open wound, it can reduce painful neuropathy, and move fluid in lymphedema cases.
Laser Therapy is FDA cleared and the LightForce equipment is designed and manufactured in the USA.  All of our clinical staff are certified on the use and contraindications of laser therapy. ,
Value for patient's is:
Painless
Speeds up recovery
Speeds recovery making rehabilitation easier
Patients love tech!
Extremely low risk of side effects
Contraindications for laser therapy:
Pregnant women
Pacemaker
Cancer
Spinal stimulators
Growth plates on children under 18 years old.
We would love for you to call us and schedule an appointment to try it for yourself, or to ask any questions that you may have about Laser Light Therapy.
Please call us at 405-265-2255 so we can schedule you today!